Following a $10 million donation from Yawkey Foundations to create a non-profit internship program at Boston University, BU's Center for Student Services was named in honor of the organization on Thursday.
Beginning in spring 2016, the endowment will provide about 100 students, or "Yawkey Scholars," with paid internships each year at non-profit organizations that lack the resources to compensate interns themselves.
"Most non-profits are cash-strapped, and that's understandable," said Yawkey Foundations' President Jim Healey. "Students who have to pay tuition, have to pay their expenses, they can't afford to take an unpaid internship because they have to pay the bills. So this was the right idea at the right time to mesh the students who couldn't afford to not get paid for work with the non-profits, which need help."
Yawkey Foundations stems from the philanthropic contributions of Tom and Jean Yawkey, longtime owners of the Boston Red Sox. When the Red Sox were sold in 2002, Yawkey Foundations absorbed nearly $400 million from the deal, which they now invest in non-profit and student programs throughout the New England area.
"We expect that the Yawkey Center for Student Services will become as familiar to students as Yawkey Way is to the armies of Red Sox fans," BU President Robert Brown said at Thursday's naming ceremony. "I'm confident that in time, the name Yawkey will become the shorthand for the place where students commune…grab a meal, study together, find out about an internship or just hang out."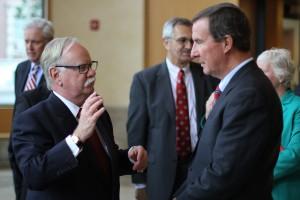 The ceremony, held in the Ellipse at the Yawkey Center, drew more than 30 attendees from both Yawkey Foundations and the BU administration, including faculty in several student service programs housed at 100 Bay State Road.
Vice President for Enrollment and Student Affairs Laurie Pohl said it was fitting that the Yawkey Center was named in the Yawkey family and foundation's honor.
"This is where you feed your academic soul," she said. "Yawkey Foundations has a commitment to education, has a commitment to service and what we want to do with this particular program is meld the two together — the academic orientation that we have, the service that our students like to do and the service to the city. We feel like we are Boston's university. We're in the city, and we're of the city. That ties in very well with Yawkey's mission too."
BU will reach out to Boston non-profits in fall 2015 to advertise the Yawkey Scholars Program and encourage companies to post internships at the university, Pohl said. However, students who apply to the highly competitive program will be responsible for pitching a fitting non-profit to a faculty panel before they can be compensated for their work.
"There will be courses and workshops they'll take in advance of actually making a proposal," she said. "These are going to be competitive, so our students are going to be selected by a faculty panel based on seriousness of purpose, their goals [and] how clearly their goals are aligned with the organization. There is a lot of prep work that will go into supporting the students beforehand."
BU administrators will keep tabs on students and non-profit organizations during the Yawkey scholars' experiences, as well as showcase what students learned at the conclusion of their internships, Pohl said.
Yawkey Foundations' endowment will counter non-profits inability to pay stipends to students, an issue that hinders student participation at companies that need their help, said BU Provost Jean Morrison.
"It's going to provide opportunities for students who otherwise wouldn't be able to afford to do an unpaid internship to do so," she said. "We know from all the data we see about how students not only complete their studies, but then succeed as they go on, that internships are a critical piece of that."
The post $10 million endowment creates non-profit internship program appeared first on The Daily Free Press.